Quality Policy
Provide Products And Services Which Meet Or Exceed Customer Needs And Expectations.

Deliver On-Time.

Reduce All Cost To Affordable Level.

Quality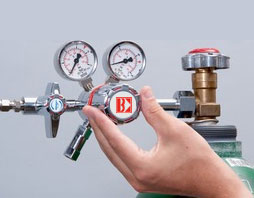 Bhartiya Valves Pvt. Ltd. is an ISO 9001 : 2008 Certified Company & derives its strength by adopting ISO 9001 Quality Systems & the concept of TQC service to its customers, be it product delivery or price and/or response to customer complaint as and when it comes. Recently introduced Japanese Art of Manufacturing-MONOZUKURI for organisational improvement.
At Bhartiya Valves Pvt. Ltd. fair business practices are followed in all commercial dealings. Qualitative factors attract & engage direct attention of the main promoter who is down to earth a Shop Floor Person. The products are manufactured as per elaborate Scheme of Testing & Inspection laid down by Bureau of Indian Standards. 100% production is ISI Marked. Adequate testing equipment is installed & periodically calibrated to undertake quality tests in relation to Raw Material, Components & Finished products.
Objectives
Bhartiya Valves Pvt. Ltd. adheres to its Mission Statement & Quality Policy & achieves its Objectives by:
Knowing who our Customers are and what they want – through open communication.

Remembering that we are here because of our Customers. Realizing that our Customers are the reason we have our jobs.

Through on-time delivery of quality products at a fair market price is how we will keep them satisfied.

Using Selected, Approved, Preferred or Certified suppliers only.

Ensuring that our Policy and Procedure Manuals reflect what we actually do.

Making continuous improvement a part of every day and every job – through the use of team participation.

Recognizing, Encouraging & Acknowledging employee's self-improvements, contributions to the company & quality of its products.
Salient Features
Bharat Valves carry BIS certification mark and are manufactured under BIS licence

Approved by Chief Controller of Explosives, Govt. of India, Nagpur.

For use in Carbon Dioxide Cylinders - Valves provided with perfectly engineered bursting disc.

Valves are subject to dimensional, pneumatic, hydrostatic and cycle tests as per Indian Standards Specifications.

Raw Material passes through strict Physical Tests.

Minimum wall thickness more than 2.5 mm.

Interchangeable valve spares, viz. Gland Nut, S.S. Spindle, Teflon and Brass Washers available in ready stock.

Markings - Permanently marked as per BIS requirements. Your logo/name can also be stamped on Valve Body.

Manufacture of special valves as per drawings or samples undertaken as per customer requirements.